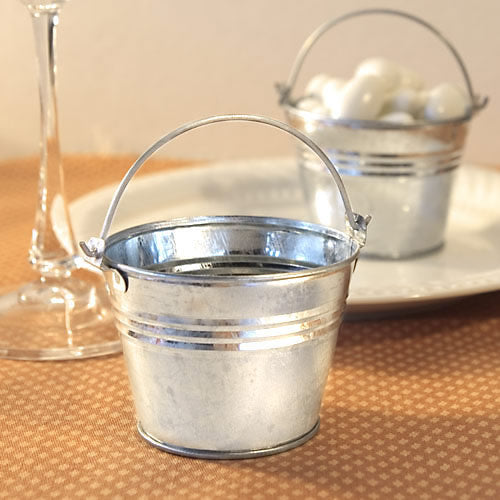 Miniature Galvanized Buckets
Description
Looking for a fun and inexpensive favor for your next event? Use your creative ideas to fill these delightful miniature galvanized buckets and thrill your guests.

A tiny version of their full sized counterparts, these adorable little buckets are ideal for any function from outdoor parties, to showers and weddings.

The sturdy little galvanised pails can be filled with candies, trinkets, confetti, potpourri, hand made treats or any other crafty idea you have. Your guests will love them! After your event, guests can use them as containers at home for jewelry or in the office to store stationery.

You don't have to spend a fortune to get adorable favors for your event, these miniature buckets are the perfect inexpensive option.
Size 2" tall with handle
Miniature galvanized buckets
Made from galvanized metal
Tiny version of a real bucket
Fill with candies, trinkets, confetti, potpourri, hand made treats or any other crafty idea you have
Bulk packed in lots of 10 pails packed in a poly bag
An adorable and inexpensive favor for any event