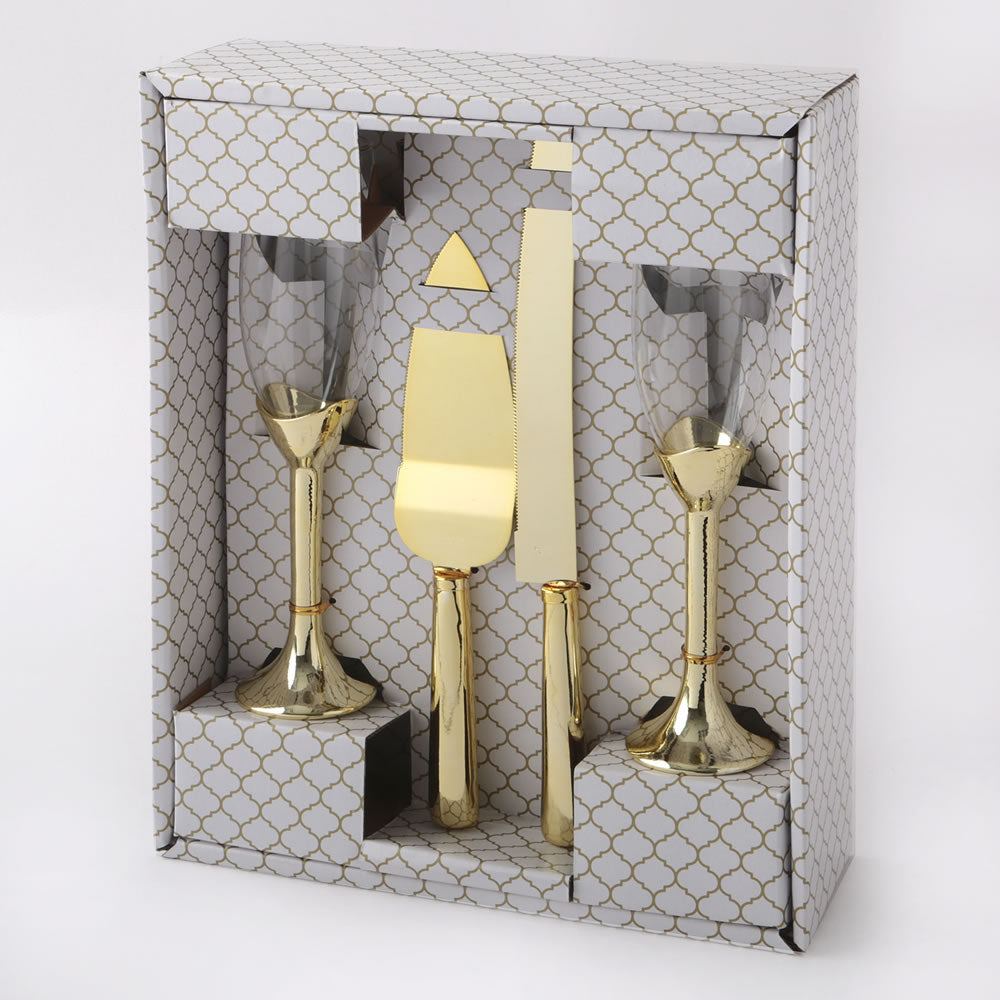 Gold 4 piece Toasting Glasses and Cake Serving Set
Description
Add a luxurious touch to your grand occasion with this exquisite gold champagne flutes and cake server set. It makes for a picture-perfect moment when you cut your cake and raise a toast.

Uplift your event with a classic set that includes a gold stainless steel cake knife, cake server and two matching champagne toasting champagne flutes.

The cake server has a gold Stainless Steel serrated curved blade. The cake knife has a gold Stainless Steel serrated blade. The server and knife both have solid poly resin handles plated in a metallic gold finish. The glass set features a classic, simple elegant straight stem design with a flute shape bowl. The flute bowls are made of glass and the stems are made of poly resin, plated in metallic gold finish.

This set is packaged in a white bottom box with a gold Hampton Link design. The box has clear plastic display cover. The 4 pieces are stylishly inserted into the gold Hampton Link stage inside the box. The box comes in a shippable inner box that can be used for shipping each set individually.
Size of server 10" x 2"
Size of knife 12 1/4" x 1"
Size of flutes 9.25" x 2.25" x 2.25"
Cake knife and server have serrated gold stainless steel blades
Cake knife and server have poly resin handles plated with a metallic gold finish
Flute bowls are made of glass
Flute stems are made of solid poly resin with a plated metallic gold finish