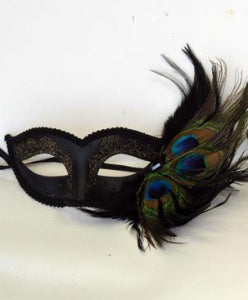 Black Masquerade Masks Half Face Venetian Mask with Peacock Feathers
Description
The Venetian masquerade half mask with peacock feather is a great addition to any party. Add some extra masquerade fun for all your party guests.


Half face mask. Black ribbon ties for easy wear. One size fits most.
Made of paper mache. Assorted styles. 6" long and 2 3/4" tall.
Peacock feathers on left side of mask. Black mask with Black glitter designs.