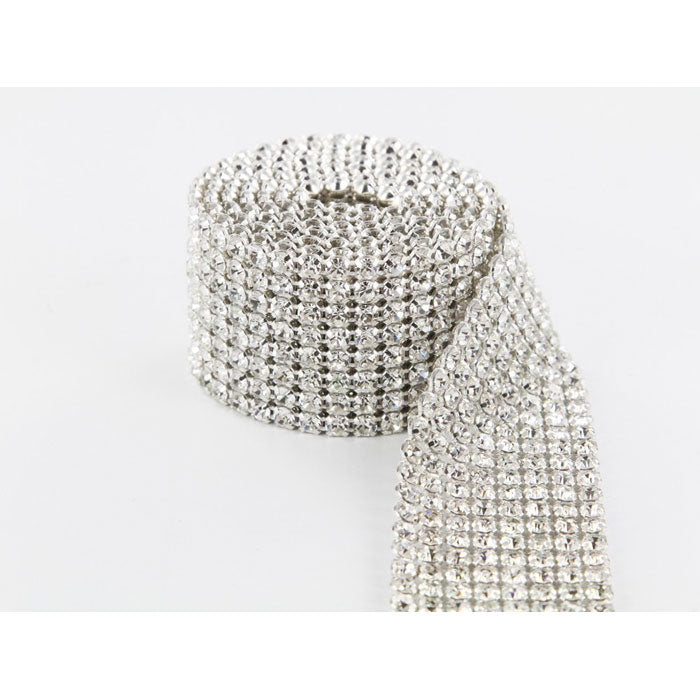 8 Row Crystal Cake Ribbons Real Rhinestones Crystal Bling Cake Banding Lowest Price
Description
This is for a yard (36 inches) of 8 rows of high quality crystal cake ribbon with REAL rhinestones.The cake ribbon is made of genuine czech quality crystal. Sparkly!

The ribbon can be used for wedding cakes, centerpieces, vases, bridal bouquets, gift boxes, costumes and several other projects. Because of its sparkly look many call it diamond cake ribbons.
Color: clear crystal w/silver setting
Width: 1 5/8 inch, 8 lines wide
Size: size of stone in its setting is between 4 and 5 millimeters Shape: stones are pointed back, settings are pointed back, not flat. and can easily be cut and the crystals will stay intact.

If you order multiple yards, you will receive your order in one continuous piece up to 5 yards.

It is only sold by the yard. If you are using them for your wedding, make sure to check the circumference of each tier you plan on putting the rhinestones on to make sure you order enough. The cake pictured used a little over 4 yards. It was a cake for 270 people.