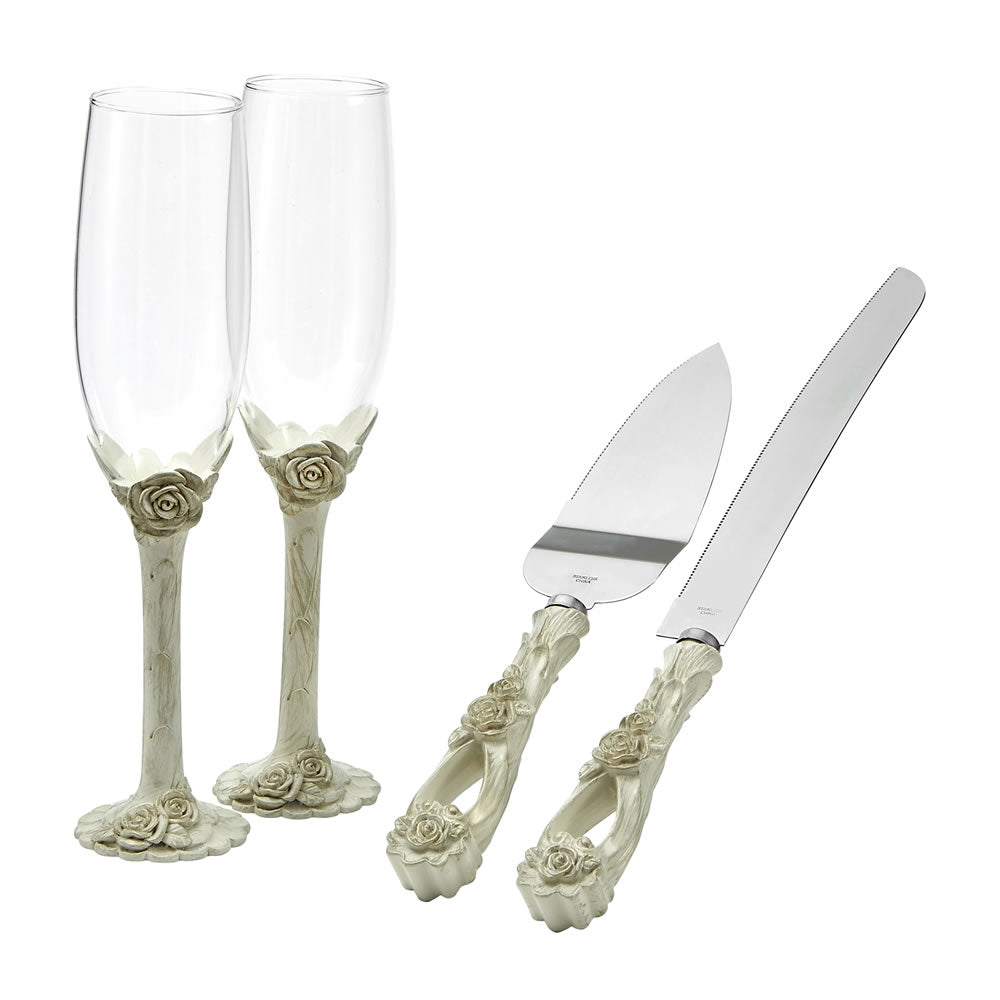 Vintage Rose 4 piece cake serving and champagne flute set
Description
Add classic elegance to your romantic event with this 4 piece vintage rose design cake serving and champagne flute set. Make sure they are part of your photoshoot!

This beautiful vintage design cake serving set consists of 4 pieces, a 2 piece cake serving set and a 2 piece champagne glass set. The cake server and cake knife both have stainless steel serrated blades. Both pieces have sturdy poly resin handles finished in an ivory color. The handles feature raised roses highlighted in gold leaf and have a cut-out heart shaped design, adding a touch of romance to your special day.

The set of 2 champagne glasses features a flute shape bowl made of clear glass each with an 8 oz capacity. The vintage rose design stem of the glasses is made of sturdy poly resin finished in a matching ivory color. The stem features raised vintage roses highlighted in brushed gold leaf. The base of the stem has a fluted design with a matching raised vintage rose highlighted in brushed gold leaf.

This stunning set comes packaged in a sturdy white box with a gold floral design. The box has a clear acetate window for display of the set inside.
Size of server 10 3/8" x 2", size of knife 12 5/8" x 1"
Size of each champagne glass 9 5/8" x 1 7/8"
Server and knife have stainless steel blades
Handles are made of poly resin with an ivory finish
Handles have raised roses finished in gold leaf and a romantic cut-out heart shaped design
Champagne flutes are made of glass
Champagne stems are made of poly resin with an ivory finish and raised vintage roses highlighted in brushed gold leaf
Stem base has a fluted design with raised vintage roses highlighted in brushed gold leaf