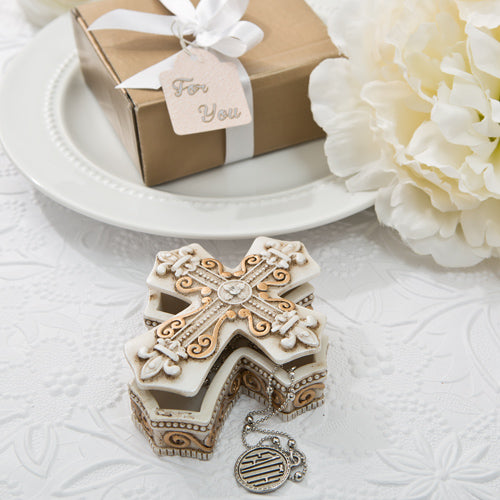 Vintage Design Cross Trinket And Jewelry Box
Description
Thrill your guests with an ornate and beautifully hand crafted religious symbol that every Christian worshipper will cherish.

Our box is made from poly resin in the shape of a cross. It offers a detailed and ornate design on the top and sides, hand painted in an antique ivory finish. The matte gold filigree pattern will delight the eye and the single clear rhinestone in the middle adds a perfect finishing touch. The top of the box lifts off to store jewelry or small change or a special memento.

This stunning box is the perfect favor to offer at christenings, communions and other Christian events.
Size is 3 1/4" x 2 3/4"
Vintage style trinket box with cross design
Crafted from poly resin
Hand painted in an antique ivory finish
Matte gold filigree line design
Single clear rhinestone accent in the middle
Lid lifts off to store jewelry or small change
Packaged in a gold box with white satin ribbon and wrap
'For You' tag
A perfect favor for christenings, communions and other Christian religious events