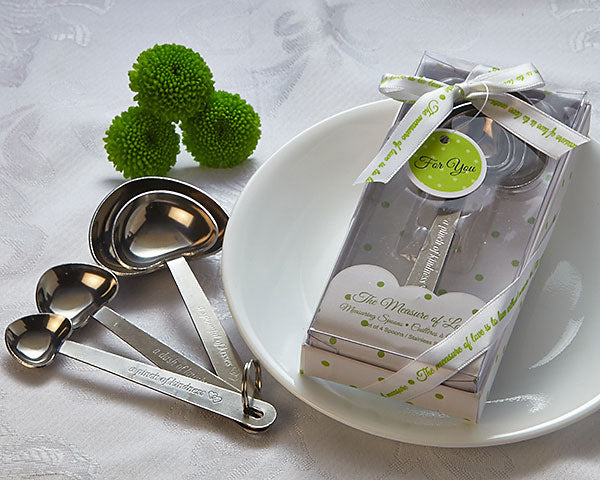 The Measure of Love Heart Measuring Spoon Set (White Package)
Description
"The Measure of Love" Heart Measuring Spoon Set (White Package) Wonderfully practical and oh so cute. This set of heart shaped measuring spoons are beyond unique and your party guests will love them. Perfect as wedding favors, bridal party favors, or baby shower favors (or for your own kitchen)! No detail is spared from the heart shaped spoons to the script engraved handles. Created by Artisano Designs. Features:
All 4 of your must-have spoon sizes included; quarter teaspoon, half teaspoon, teaspoon, and tablespoon
Each size spoon handle is inscribed with its own unique phrase, including; "a pinch of kindness"; "a dash of laughter"; "a spoonful of kisses"; "a heap of love"
Beautifully gift packaged in display box with white and green polka dot design.
Finished with white satin printed ribbon and bow reading "The measure of love is to love without measure" and includes matching "For You" gift tag
Made of quality stainless steel with polished finish
Packaged favor dimensions approx 5.7" x 2.7" x 1" (14.5 x 6.8 x 2.54 cm).