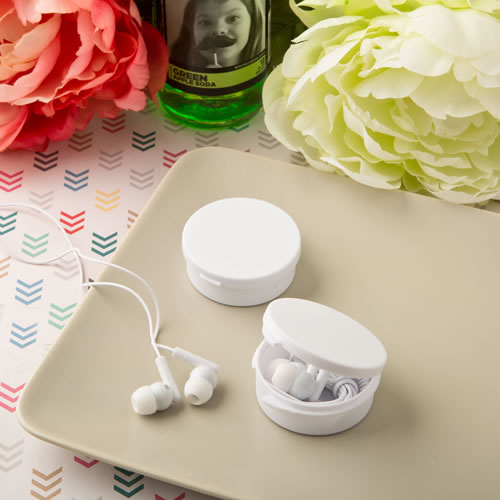 Perfectly Plain Ear Bud Headphones
Description
Do you love your music but don't want to disturb those around you? Use these fabulous little ear bud headphones and enjoy perfect sound quality!

From our Practical Technology Favor Collection, we offer you a fun gadget for techno-savvy people. Our ear bud headphones are made from plastic with silver metal plugs and are covered with a soft white ear piece that fits comfortably into the ear.

They come in a neat white plastic storage case that is ideal for travelling, slipping into your pocket, handbag or backpack. These ear bud headphones are the ideal hands-free option for mobile phones and musical devices. Use when going on a run, a walk or just relaxing around the house.

Size 2 1/8" round 3 /4" tall
Perfectly Plain Practical Technology Favor Collection ear bud headphones
Made from white plastic with silver metal plugs
Soft white rubber ear piece fits comfortably into ear
Stored in a round white plastic storage or travel case
Case opens with hinged top for easy removal and storage of buds
Bulk packed in a poly bag
A great techno-savvy idea for mobile phones, music devices and more!