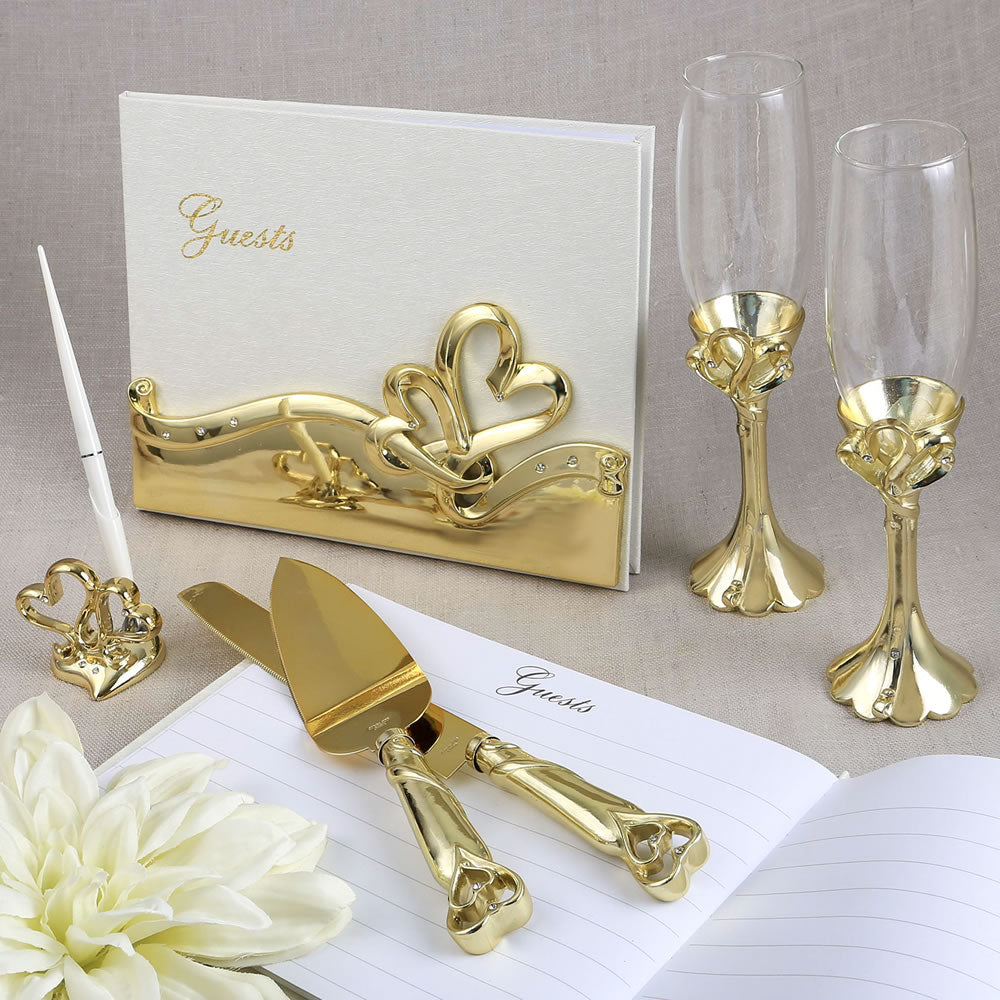 Gold double heart themed wedding accessory set
Description
From Fashioncraft® - an exclusive and magnificent double heart themed combination set to cut your wedding cake, offer a toast and create a guest book filled with hand written heartfelt messages!

The flutes are presented as a set of two. Each flute has a clear glass bowl that holds 8oz. The stems are made from poly resin and feature a detailed carved interlocking open hearts design with clear rhinestone accents.

The cake server and cake knife each have gold stainless steel blades that are serrated for easy cutting. The handles are made from poly resin and finished in a plated metallic gold. They have a double heart design on the bottom with rhinestone accents.

The guest book is a bound white book with a leatherette finish. Attached onto the book cover is a detailed carved interlocking hearts applique in gold plated finish made of very sturdy poly resin with clear rhinestone accents. The book contains 50 lined pages each with the word 'guest' as a header. The pen set features an elegant interlocking hearts shaped statuette base that is made of poly resin with a metallic gold finish. The hearts have clear rhinestone accents. Attached to the gold base is a pen holder that has a formal style white plastic pen with a gold metal accent.
Flute set (2535) Flute size is 9.25" x 2.25" x 2.25"
Cake knife set (2536) Cake knife size 12" x 1 Cake server Size 10" x 2"
Guest book (not sold separately) Size 10" x 8" x 0.675
Pen set (not sold separately) Size 8" x 2" x 1.75"
Double heart design wedding set including Flute Set, Cake Knife Set, Pen Set and Guest Book
Flutes set of 2, 8oz glass bowl, poly resin gold plated metallic finish stem with a detailed carved interlocking open hearts design and clear rhinestone accents
Cake server and knife have gold stainless steel blades, handles made from poly resin with a plated metallic gold finish and a double heart design with rhinestone accents
Guest book is a bound white book with a leatherette finish, cover made from poly resin with a gold plated finish, detailed carved interlocking hearts and clear rhinestone accents, contains 50 lined pages each with the word 'guest'
Pen set has an elegant poly resin interlocking hearts shaped statuette base with a metallic gold finish, hearts have clear rhinestone accents, pen holder with white plastic pen with a gold metal accent