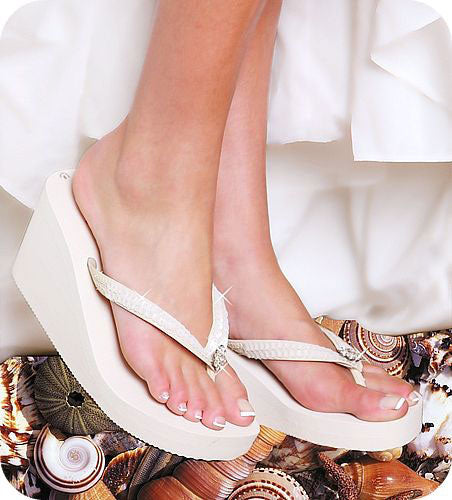 Bridal Flip Flops High Wedge Flip Flop IVORY Sequins & Crystals
Description
This dazzling and very popular Bridal Flip Flop is the perfect accent to anyone looking for a comfortable yet trendy alternative to wedding shoes. Whether worn to a destination wedding or an elegant event, you'll have happy feet!

Many brides are choosing to purchase these flip flops and change into them at the reception for a comfortable and stylish alternative. These flip flops are great since the brides can change into them and their gown wont drag on the floor. The best part is... You can wear them "Over & Over Again"!!

The back of these flip flops measure at 3 1/2" tall and the front of the flip flop has a 1" platform. These fancy flip flops are adorned with sequences and a crystal rhinestone flower accent.

Available in Ivory color. Currently only available in 3 sizes: 5, 6, 7, 8, 9, 10, 11.