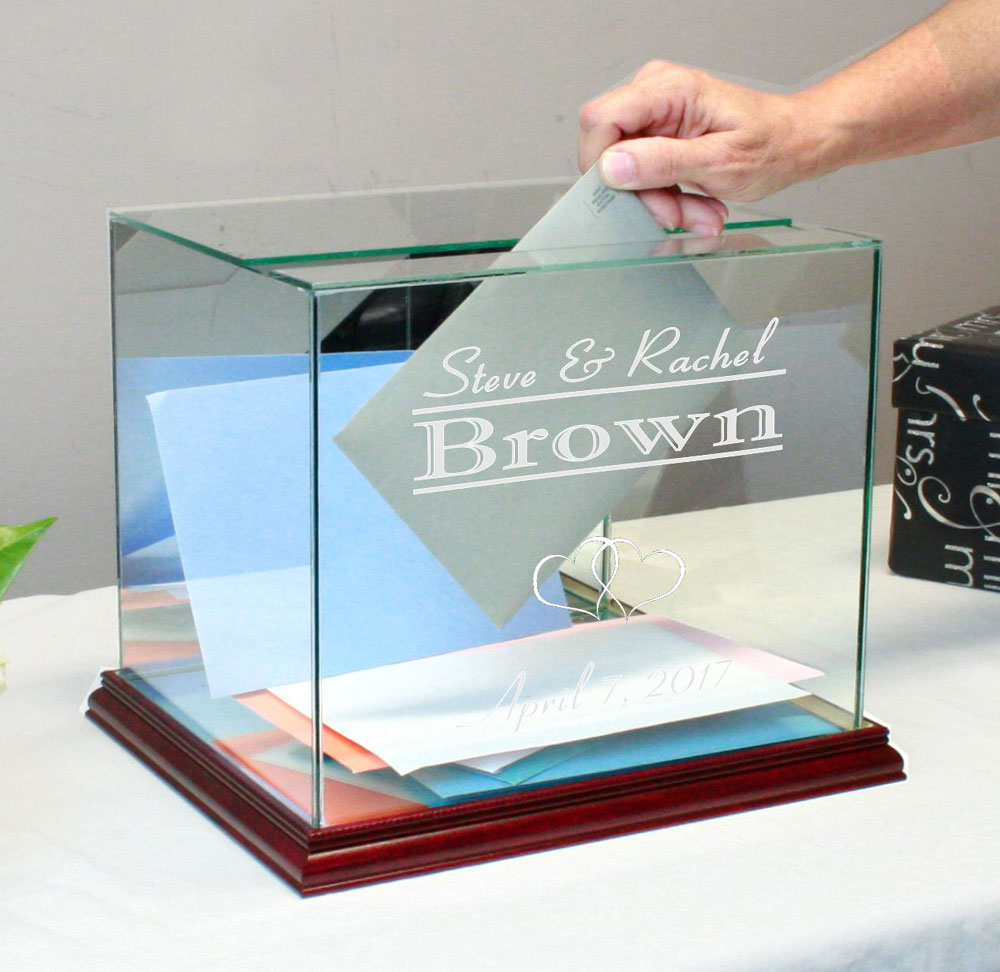 Glass Wedding Card Box Personalized Rectangle Money Box
Description
This rectangle wedding card box is not only personalized, but can be used after the wedding as a case to display the wedding couples cherished wedding keepsakes.

Features:

They are made of double strength, UV protected glass and mirror. This unique card box is made with mirror on the bottom and in the back.
This rectangle-shaped box features 4 sides, with the mirror on the back three panels.
The sides of the box are supported by a beautiful furniture grade moulding that is available in 6 different colors: Cherry, Black, Walnut, Silver, Gold, White.

This card holder is designed with a slit in the top to allow for cards and envelopes. The lid hinges open from the back to retrieve cards and to display your keepsakes.
The personalization includes the bride and groom's first names, their last name, the wedding date and/or location in your choice of lettering style and layout format. You can also have an optional design added to create a truly unique box

This octagon card box is available in 3 Sizes:
Small - measures 10" x 8" x 8", fit 50 -75 gift cards.
Medium size - measures 11" x 9" x 9" and can accommodate 100 - 150 gift cards.
Large size - measures 12" x 10" x 10" and can accommodate 150 - 200 gift cards.

It is available in 3 layouts: Layout 1; Layout 2; Layout 3

After the ceremony, use this box to display your cake topper, marriage certificate, invitations and other special keepsakes from your important day.